---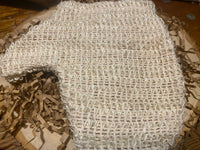 Exfoliating bath mitt. Great for selfcare and skincare use. Removes dead skin cell to help revive and rejuvenate your skin. 
Disclaimer:
our products have not been evaluated by the FDA and are not intended to cure , diagnose, prevent, or treat any disease. The FDA prohibits bath and body companies from making any health related claims about beauty products. The information listed relates to the properties of the specific ingredients used within the product. 


I am not a medical and/or healthcare professional and do not claim that the use of S. Renee Creations, LLC products will cure, treat, or prevent any conditions.